DECEMBER 1, 2020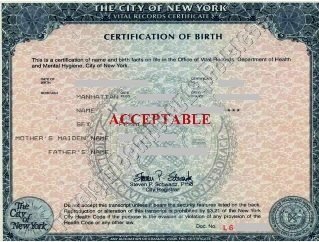 If you were born in Manhattan, Brooklyn, Bronx, Queens or Staten Island, your birth certificate may look like this. This is a short form birth certificate (also called "Certification of Birth"). It is issued by the New York City Department of Health and Mental Hygiene and signed by the City Registrar. The current City Registrar is Steven P. Schwartz. The short form typicllay includes the child's name, date of birth, sex, and place of birth, although some also include the names of the child's parents.
Can a short form birth certificate be apostilled? The answer is "yes, it can".

Foreign authorities request apostilled or legalized birth certificates for many various reasons including adoption, getting married to a foreign national, obtaining dual citizenship, etc. So, if you only have a New York issued short form birth certificate, can it be apostilled? Or do you have to obtain a long form first?
Short form birth certificates are absolutely acceptable for New York State apostilles or legalization by a foreign embassy. No Exemplification letter is required. The signature of the current City Registrar Steven P. Schwartz can be certified directly by one of the courts in New York State, after that the document becomes eligible for a New York apostille.
If your birth certificate is old, it was probably signed by one of the former City Registrars. If the certificate is signed by former City Regisrar Irene A. Scanlon, your document is also acceptable for a New York apostille.
When you search online "How to get an apostille for a New York short form birth certificate?" you will probably see advice like "The unofficial way is for you to create a letter stating that you have an original or a copy of a birth certificate issued by the state, city, or local county registrar of your locality. then you get the letter you created & have it notarized." This is not the correct way to get an apostille for a birth certificate! do not follow this advice! Please email a copy fo your birth certificate to us for a free evaluation, and we will tell you if your document qualifies, and how to proceed. Copies certified as true copies by the document custodian (you) are not acceptable! You do need the original document.
Also, some foreign countries require that certified copies of birth certificates are recent, e.g. were issued within the last six or twelve months. Please find out the requirement of the receiving foreign country before you start with the process of legalization.
Prices, processing time, order form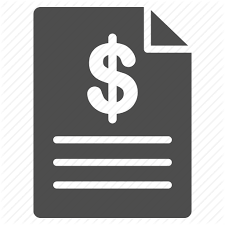 New York apostille: $175
(USPS Priority within the U.S. is included)
Processing time: currently 3,5-4 weeks + mail
Embassy legalization: $375 (most embassies)

Processing time: depends on the embassy.
FedEx (2nd day):
$20;
FedEx (standard
overnight): $30
FedEx International: $75 (most countries)
FedEx International to Eastern Europe, South America, Africa: $115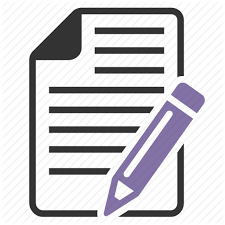 New York Apostille / Embassy Legalization Order Form (PDF file)
Complete the Order form and enclose it with your documents. Our mailing address is
Foreign Documents Express331 Newman Springs Rd., Bldg. 14th Floor, Suite 143Red Bank, NJ 07701