How to get an apostille... in New York and nationwide?

JUNE 27, 2017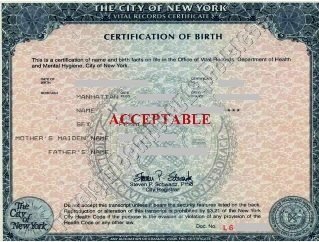 Question: I have a short form birth certificate: City of NY, Vital Records Certificate, Certificate of birth: Your website says I don't need a letter of exemplification, but the Apostille/Certificate of Authentication Request form says I do. Which is correct?
Answer: The Office of New York State Secretary of State that issues apostilles suggests a way of preparing your certificate for an apostille. This does not mean that it is the only way. If you were born in Manhattan, Brooklyn, Bronx, Queens or Staten Island and your birth certificate is signed by one of the following City Registrars, STEVEN P. SCHWARTZ * IRENE A. SCANLON * EARLENE PRICE * IRWING MELLON, your birth certificate can be apostilled without a letter of exemplification. These signatures can be authenticated directly by one of the NYC courts, then the document is taken to the Office of the Secretary of State for an apostille.
Short form birth certificates are absolutely acceptable for New York State apostilles or legalization by foreign embassies.