How to get an apostille... in New York and nationwide?

OCTOBER 8, 2016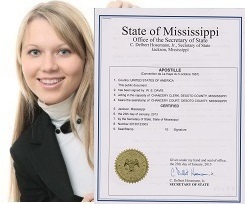 Why do apostilles look different in different states?
Yes, they do look different. In fact, they look so different that on many occasions the receiving agencies overseas get confused. In wost cases apostilled documents get rejected because foreign officials expect apostilles from the United States to look exactly like apostilles from other foreign countries.
The fact is that apostilles from different U.S. states do not have to look exactly the same. An apostille must meet the general requirements specified in the Hague Apostille Convention. Color, fonts, images, seals, ways apostilles are attached to documents, etc. can vary depending on the preferences of the issuing apostille agency.
Related search terms: "hague apostille", "what does apostille look like", "apostille rejected", "apostille in spanish", "different apostilles"