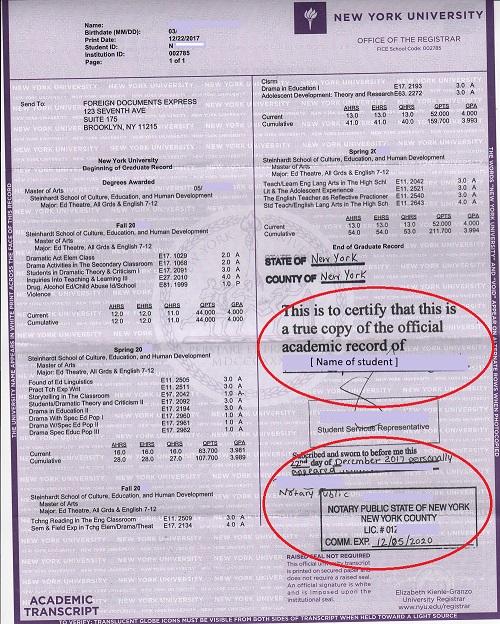 How do you prepare a transcript for foreign use?

Contact your school and request a certified notarized copy of your transcript. This document needs to be signed by a school official (original signature), and his/her signature must be notarized.

If you cannot obtain a certified notarized copy, please
contact us
. We can have a copy of your diploma /transcript notarized and apostilled in Washington DC.
Related search terms: "new york apostille for transcript", "how to apostille a transcript", "diploma apostille", "secretary of state apostille for transcript"
---
What should a certified, notarized transcript look like?
Practically all New York colleges and universities issue certified notarized copies upon request of the student, and ship them to third parties if so instructed. The certification is usually signed by the school registrar or some other official, e.g. a Students Services Representative, and his or her signature is then notarized.
Here is an image of a certified transcript that was sent to us by the New York University. This transcript is properly certified and notarized. This transcript is eligible for a New York apostille or embassy legalization.
Read more about apostilles for diplomas and transcripts...