---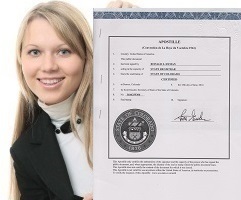 We provide FAST and RELIABLE apostille services in Colorado for all kinds of documents originating from this state, both personal and corporate. We can also obtain many kinds of documents from Colorado state agencies, including certified copies of vital records, court judgments, corporate documents, etc. Please contact us.
Colorado apostille guidelines:
The following documents qualify for Colorado apostilles:

Original documents notarized by a Colorado notary public. The requirements for notarization are strict in the State of Colorado, especially in regards to Powers of attorney (see below).

Certified copies of vital records (birth, marriage, death certificates) issued by
Colorado Vital Records Office

certified copies issued by Colorado courts

documents issued by Colorado Secretary of State
---
Colorado apostille tips:

Colorado law does not allow notaries to make and certify copies of vital records (birth, death certificates) and other public records. Copies of vital records need to be obtained through Colorado Department of Public Health and Enviroment

Colorado apostilles cannot be obtained for improperly notarized documents. This includes cases where the notary appears to have exceeded his or her statutory authority, such as engaging in the unauthorized practice of law.
Sometimes apostille and authentication requests for notarized power of attorney documents (POAs) intended for use in Mexico contain legal conclusions by the notary, including statements about the legal capacities of the parties involved. Some POAs indicate that the notary has read and explained the legal meaning of the document to the grantor. Unless the notary is also an attorney licensed to practice law in Colorado, notarizing these types of documents constitutes the unauthorized practice of law.

Documents must have an original "live-ink" signature (not stamped or photocopied).
---
CO apostille: price, processing time, order form:
Colorado apostille: $175 (Fedex 2nd day is included, U.S. only)
FedEx (2nd day):
$20
FedEx (standard overnight):
$30
FedEx International:
$75
(most countries)
FedEx International to Eastern Europe, South America, Africa:
$115
Processing time:
5-7 bus. days
Apostille Order Form (PDF file)
Complete the Order form and enclose it with your document(s). Our mailing address is
Foreign Documents Express331 Newman Springs Rd., Bldg. 14th Floor, Suite 143Red Bank, NJ 07701