Connecticut Hague Apostille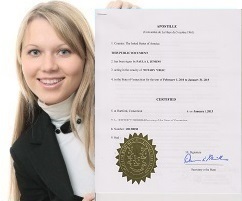 Do you need an apostille for a document issued in Connecticut?

We provide FAST and RELIABLE apostille services in Connecticut for all kinds of documents originating from this state, both personal and corporate. We can also obtain many kinds of documents from Connecticut state agencies, including certified copies of vital records, court judgments, corporate documents, etc. Please contact us or email your document for a free evaluation.
---
CT apostille: price, processing time, order form:
Connecticut apostille:

$175
USPS Priority mail, U.S. : free
FedEx (2nd day, U.S.): $20
FedEx (standard, overnight): $30
FedEx (International): $75 ($115 to Eastern Europe, South America, Africa)
Processing time: currently
10-12 bus. days

+ mail
Apostille Order Form (PDF file)
Complete the Order form and enclose it with your document(s). Our mailing address is
Foreign Documents Express331 Newman Springs Rd., Bldg. 14th Floor, Suite 143Red Bank, NJ 07701
---
Acceptable document signers and certifiers:

Connecticut notaries public (vital records documents cannot be notarized!)

Town Clerks and their duly appointed deputies and assistants

local Registrars of Vital Statistics and their duly appointed deputies and assistants

CT Commissioner and Deputy Commissioner of Public Health and Addiction Services

CT Registrar and Deputy Registrar of Vital Records

Clerks, Deputy Clerks, and Assistant Clerks of CT Superior Court

Judges of the Superior Court and Probate Court (not clerks of the Probate Court!)

Justices of Peace

Commissioners of Deeds for the State of Connecticut

CT Secretary of State
---
CT apostille tips:

Birth certificates
issued by State of Connecticut Department of Public Health and signed by the
current Registrar of Vital Records Jane K. Purtill
are eligible for apostilles or legalization by foreign embassies.

Background checks:

Please order a Letter of Good Conduct from the Department of Emergency Services and Public Protection. These documents are notarized and are eligible for apostilles / legalization.

Copies of

student diplomas

may be either
student-certified
or
school-certified
. Only the student who has the original diploma in his/her possession, or the school that issued the diploma can certify that a copy of a diploma is a true copy of the diploma issued to the student. A Connecticut notary may not make a certified copy of a school diploma.


Copies of
student transcripts
must be certified by the school and properly notarized before they can be authenticated. Only the school registrar, or other authorized school official, may certify that a transcript is a true copy of the original record in the school's possession. Students may not make certified copies of their transcripts. A Connecticut notary may not make a certified copy of a school transcript. In fact, Connecticut state law does not give notaries the authority to make any certified copies. The school must be located in Connecticut in order for a transcript to be certified, notarized, and authenticated in Connecticut. Transcripts from schools outside of Connecticut must be certified, notarized, and authenticated in the state or country where the school is located.
---
---