Do you need Hague apostilles for your Ohio documents? We provide Apostille and Embassy legalization services in the State of Ohio and nationwide, for documents intended for international use.
If you are traveling overseas, or sending an Ohio document for use in a foreign country, you may be required to have the document apostilled or legalized. Hague apostilles have been adopted internationally as a uniform way of verifying documents sent between countries.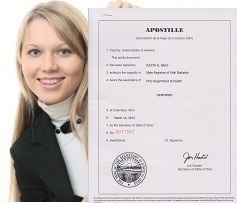 What does an Ohio apostille look like?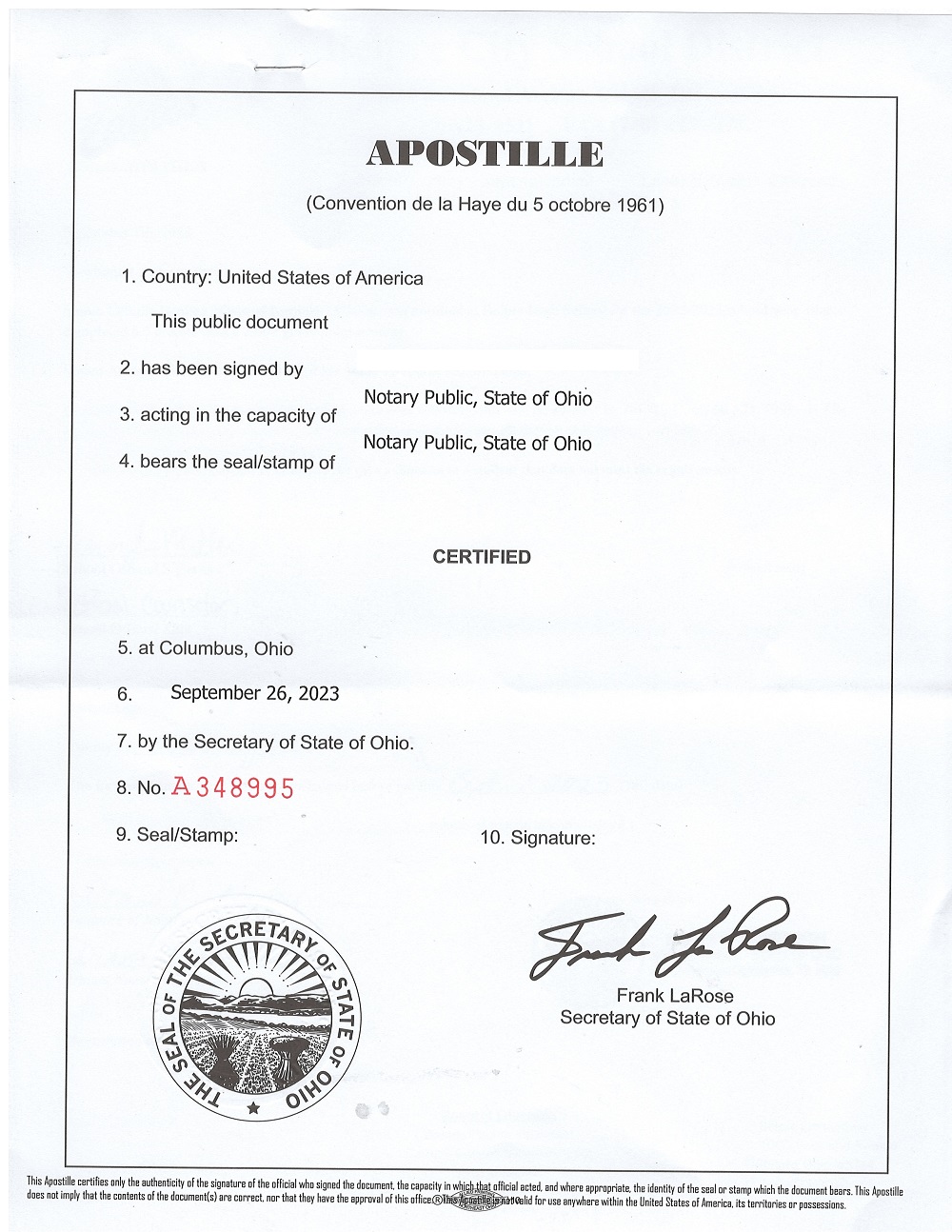 In the State of Ohio, as in all U.S. states, an apostille is a separate page attached to the document by a staple. It is signed by the Ohio Secretary of State (facsimile signature) and has the Seal of the Secretary of State of State of Ohio.
Price, processing time, order form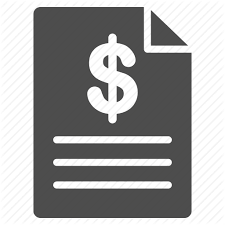 Ohio apostille: $175
USPS Priority mail (within the U.S.): free
You will find more shipping options in the
Order Form
Processing time: app. 2 weeks + mail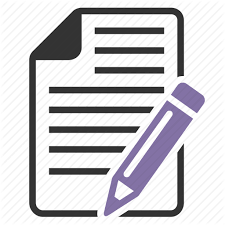 Please complete the Order Form and mail it with your original document(s) to
Foreign Documents Express331 Newman Springs Rd., Bldg. 14th Floor, Suite 143Red Bank, NJ 07701
If you are sending your document(s) from a foreign country, please use FedEx, DHL or TNT, and email the tracking number so that we can watch for your package.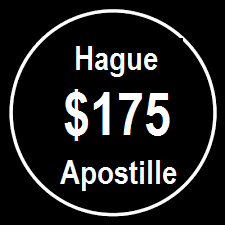 No hidden fees.
Our guarantee: If we are unable to get your documents apostilled or legalized, we issue a 100% refund, we do not keep any service fees.
Ohio apostille guidelines:
The following documents qualify for Ohio apostilles:


notarized by an Ohio notary public or by Ohio attorney notary

certified copies of vital records issued by Ohio Department of Health or county Vital Statistics

certified copies of marriage certificates issued by County Probate Courts

certified copies of divorce records issued by the County Clerk or Court of Common Pleas

issued by Ohio Secretary of State

The Ohio Secretary of State no longer requires notary signatures to be certified by the Office of the County Clerk before issuing apostilles . Secretary of State has all notary signatures on file for verification.

Birth certificates and Death certificates should be certified by the Ohio Department of Health or Vital Statistics.

Apostilles can be issued for certified copies of marriage licenses or certificates. Marriage records are on file at the county probate courts. To obtain a certified copy of these, contact the probate court in the county where the marriage license was obtained. A Certificate of Single Status can also be obtained at the county probate court.


Certified copies of divorce decrees, probated wills and judgments can be obtained at the Clerk of Court's office in the county where the proceedings took place.

Certified copies of business organization documents on file with the Ohio Secretary of State and can be issued by the Office of the Secretary of State.

Photocopies of any of the above documents are acceptable for authentication but only if properly notarized as a true and accurate copy (with the exception of birth and death certificates).

School transcripts and diplomas should be certified by a school official and notarized by an Ohio notary.
---
We obtain apostilles for documents originating from all 88 Ohio counties: Adams | Allen | Ashland | Ashtabula | Athens | Auglaize | Belmont | Brown | Butler | Carroll | Champaign | Clark | Clermont | Clinton | Columbiana | Coshocton | Crawford | Cuyahoga | Darke | Defiance | Delaware | Erie | Fairfield | Fayette | Franklin | Fulton | Gallia | Geauga | Greene | Guernsey | Hamilton | Hancock | Hardin | Harrison | Henry | Highland | Hocking | Holmes | Huron | Jackson | Jefferson | Knox | Lake | Lawrence | Licking | Logan | Lorain | Lucas | Madison | Mahoning | Marion | Medina | Meigs | Mercer | Miami | Monroe | Montgomery | Morgan | Morrow | Muskingum | Noble | Ottawa | Paulding | Perry | Pickaway | Pike | Portage | Preble | Putnam | Richland | Ross | Sandusky | Scioto | Seneca | Shelby | Stark | Summit | Trumbull | Tuscarawas | Union | Van Wert | Vinton | Warren | Washington | Wayne | Williams | Wood | Wyandot
Foreign Documents Express customer reviews