Alaska Hague Apostille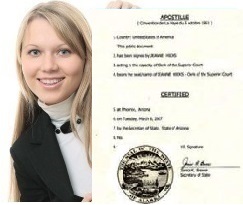 Foreign countries that joined the Hague Apostille Convention sometimes require that signatures of State of Alaska officials, employees, or notaries on your documents be formally validated by a Hague apostille before they will accept them. In Alaska this service is provided by the Office of Lieutenant Governor. An apostille is a seal that will make your document valid outside the United States.
Related search terms: "alaska apostille", "alaska secretary of state apostille", "alaska apostille seal", "alaska notary apostille", "apostille legalization", "alaska birth certificate apostille", "alaska marriage certificate with apostille", "how to get an apostille in alaska", "how to get an apostille"

---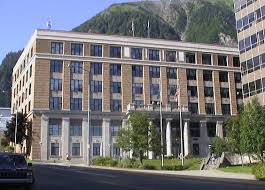 We provide FAST and RELIABLE apostille services in the State of Alaska for all kinds of documents originating from Alaska, both personal and corporate. We can also obtain many kinds of documents from Alaska state agencies, including certified copies of vital records, court judgments, corporate documents, etc. Please contact us.
Alaska apostille guidelines:
Apostille process in Alaska requires strict adherence to specific document standards. The Lieutenant Governor will not issue an apostille for a document that does not comply with the authentication standards. Please take the time to read the below instructions carefully, especially if you are in a hurry and cannot afford any delays. The following documents qualify for Alaska apostilles:
Alaska apostilles for documents notarized by a commissioned Alaska Notary Public:
Unless you are sending official certified copies of Vital Records, Court or other official State issued documents, your documents must be notarized. A properly notarized document in Alaska has:
The Principal's original signature (the Principal is the person whose signature is notarized)
A notarial certificate
The notary's original signature
The expiration date of the notary's commission
The notary's seal (embossed seals must be shaded over with pencil or ink to comply with Alaska law)
Notarized documents must contain all of these elements. Improperly notarized documents cannot be apostilled. You will have to return them to the notary for correction before you present them for an apostille.
Here is a sample notarial certificate. It usually appears on the document following the Principal's signature or it can be on a separate page attached to the document. No specific wording is required by Alaska law, but the law requires a notarial certificate on all notarizations.
Sample Notarial Certificate
State of Alaska
_______ Judicial District
Subscribed and sworn to (or affirmed) before me at __________(city), by ___________(signer's name) on _______________(date).
___________________________
Notary Public's Signature
My Commission Expires: ___________________
Commissioned notaries vs. Noncommissioned notaries:
Alaska statutes grant U.S. Postmasters, commissioned Military Officers, Alaskan Justices, Judges, Magistrates and Clerks of Court the power to perform notarial acts as noncommissioned notaries. The Lieutenant Governor does not keep signature files for noncommissioned notaries, so their notarizations usually can't be authenticated.
The majority of notaries in Alaska are commissioned by the Lieutenant Governor. The easiest way to locate a commissioned notary is to visit your bank.
Alaska apostilles for official certified copies of Vital Records:
The Lt. Governor authenticates official certified copies of Vital Records (birth certificates, marriage certificates, death certificates) issued by Alaska Vital Statistics office in Juneau. Notarized copies of vital records cannot be apostille. In fact, it is against the law to make photocopies of Alaska Vital Statistics documents.
Alaska apostilles for documents certified by a court officers:
Hague apostilles can be issued for official certified copies of Court documents and documents that have been properly notarized by Court officials provided that their signatures are on file with the Lt. Governor's Office.
Alaska apostilles for photocopies of documents:
Copy Certification By Document Custodian
Alaska's notaries do not have the authority to certify documents or photocopies of documents. When it is necessary to authenticate a photocopy of a document or a document has not been notarized at the time of issue it may be possible to use a process called Copy Certification By Document Custodian. Anybody except an individual functioning in the capacity of Notary Public can certify a document using this process. The person that is certifying the document signs a statement and their signature on that statement is notarized.
It is against the law to make copies of Alaska Vital Statistics documents. An apostille will not be issued to authenticate photocopies of Vital Statistic documents even if they have been properly notarized via the Copy Certification by Document Custodian process.
Alaska apostilles for school diplomas and transcripts:
If you work with the registrar of your school in advance, they may be able to incorporate a notarial certificate into their normal copy certification process and provide you with a notarized original. These notarized originals are always preferable since it is the real document custodian's signature that is being notarized.
The sample Copy Certification By Document Custodian below is a template. Insert the appropriate information into the blanks as you write or type it onto your document. Most official certified copies (i.e. school transcripts) will already have a similar statement stamped or printed on the document. In that instance all that is required is to add a notarial certificate below the normal copy certification statement and signature.
Copy Certification By Document Custodian
State of Alaska
_________ Judicial District
I, _________

(name)

______________, hereby affirm that the attached
reproduction of ____

(document description)

_____ is a true, correct and
complete photocopy of a document in my possession.
_______________________________________________________
Signature and address of custodian of original document
Subscribed and sworn to before me this _

(day)

_day of _

(month)

_, _

(year)

_
________________________________
Notary's Signature
My Commission Expires: _____________
More Alaska apostille tips:

Make sure your document has an original signature

Please note: In case of notarized documents (powers of attorney, letters, consents, resolutions, etc), make sure it is notarized by a commissioned notary.

If you require a formal certification of a notarization for use within the United States instead of a foreign country, Alaska also provides a Certificate of Good Standing that is only valid for use within the U.S. The requirements for obtaining a Certificate of Good Standing are identical to the foreign certificates – just indicate as part of your order that the certificate is for use within the United States.

A properly executed Copy Certification By Document Custodian will meet the Lt. Governor's requirements for obtaining an Apostille, but the finished product may not meet the requirements of the government to which you will be submitting your documents. Please contact the appropriate consulate and verify that a copy certified by this method will be acceptable. Failure to do so may result in the rejection of your Copy Certification By Document Custodian by the country that will be receiving your document, even if the notarization has been apostilled.
---
Alaska apostille: price, processing time, order form:
Alaska apostille: $175 (Fedex 2nd day is included, U.S. only)
FedEx (2nd day):
$20
FedEx (standard overnight):
$30
FedEx International:
$75
(most countries)
FedEx International to Eastern Europe, South America, Africa:
$115
Processing time:
7-10 bus. days
Apostille Order Form (PDF file)
Complete the Order form and enclose it with your document(s). Our mailing address is
Foreign Documents Express331 Newman Springs Rd., Bldg. 14th Floor, Suite 143Red Bank, NJ 07701
---