---
Apostille for the Philippines
We provide fast and reliable apostille services for the Philippines. We can apostille the original diploma or a copy of the diploma, depending on your needs.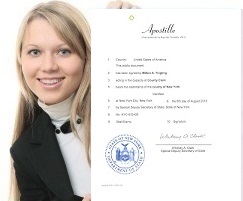 If your documents are notarized by a New York notary public, we will take it to the respective County Clerk before having it authenticated at the state level. However, please email a copy of your document first for a free evaluation. We need to make sure that the notary has followed all the requirements. If your document is not notarized, we can have it notarized and apostilled in Washington DC. Please check our 24-hour apostille service for a copy or your diploma / transcript or send us the original.
---
How to order an apostille for the Philippines?
Email a copy of your document for a free evaluation. We will tell you if your document qualifies for an apostille, and how to proceed.
Mail the original document to us or email a scanned copy, and we will take care of the legalization for the Philippines.
New York apostille: $175
(USPS Priority within the U.S. is included)
Processing time: currently 3,5-4 weeks* + mail
Embassy legalization: $375 (most embassies)

Processing time: depends on the embassy.
FedEx (2nd day):
$20;
FedEx (standard
overnight): $30
FedEx International: $75 (most countries)
FedEx International to Eastern Europe, South America, Africa: $115
Apostille Order form (PDF file)
Complete the Order form and enclose it with your documents. Our mailing address is
Foreign Documents Express
331 Newman Springs Rd., Bldg. 1
4th Floor, Suite 143
Red Bank, NJ 07701
---
What other documents can be legalized for the Philippines?