How to get an apostille... in New York and nationwide?

JANUARY 19, 2017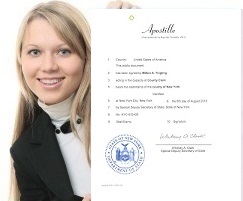 According to the Hague Apostille Convention brochure, an Apostille can be placed directly on the document itself (as a stamp) or on a separate attached page (called an allonge). Apostilles may be affixed by various means, including rubber stamps, self-adhesive stickers, impressed seals, etc. If an Apostille is placed on a separate page, this page can be attached to the underlying document by a variety of means, including glue, grommets, staples, ribbons, wax seals, etc. All of these means are acceptable under the Convention. Failure to affix an Apostille in a particular manner is not a basis for refusing the Apostille. The State of New York uses metal grommets to attach apostilles to documents. A grommet can be placed in the upper left corner or in the upper right corner of an apostille. There is no other means to attach apostilles to documents. Your document cannot be rejected because foreign authorities expect an apostille to look different or to be attached to a document in a different manner, e.g. to be ribboned or glued to the document.
Related search terms: "new york apostille", "apostille legalization", "what is apostille", "how to get an apostille in new york", "apostille grommet", "apostille ribbon"