---
Exemplification of Birth Certificate: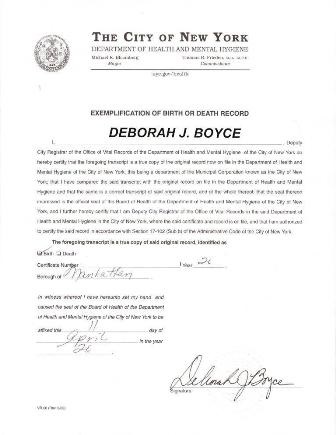 A Letter of Exemplification or Exemplification of Birth or Death Record is a separate page (white in color) which the New York City Department of Health and Mental Hygiene attaches to NYC birth certificates. Exemplification means "an attested copy of a document, under official seal" and the Exemplification Letter does exactly that - attests that the attached birth certificate is a true certified copy. The reason for issuing a Letter of Exemplification is mere convenience. The New York City County Clerk's Office does not have the signature of the City Registrar on file, and cannot authenticate this signature directly. However, the signatures of Deputies City Registrar who sign Letters of Exemplification are on file with this office.
When is a Letter of exemplification required?
A few consulates (e.g. the Italian consulate, for the purpose of obtaining Italian citizenship) specifically require that you submit a long form birth certificate with a Letter of Exemplification. Please follow the consulate requirements. However, if a Letter of exemplification is not specifically required (like in 99% of the cases), your birth certificate can be apostilled / legalized without it.
Short form birth certificates:
Letters of exemplification are never issued for short form birth certificates. A short form birth certificate is acceptable for an apostille or embassy legalization without a letter of exemplification.
Read more about different types of birth certificates issued in New York City and New York State...
---
Apostilles and embassy legalization: NY birth certificates (exemplified or non-exemplified): prices, processing time, order form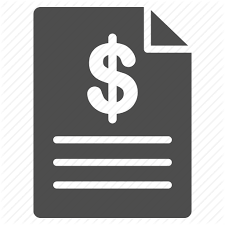 New York apostille: $175
(USPS Priority within the U.S. is included)
Processing time: currently 3,5-4 weeks + mail
Embassy legalization: $375 (most embassies)

Processing time: depends on the embassy.
FedEx (2nd day):
$20;
FedEx (standard
overnight): $30
FedEx International: $75 (most countries)
FedEx International to Eastern Europe, South America, Africa: $115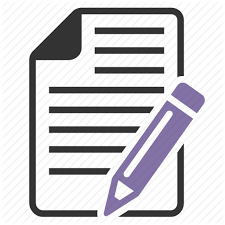 New York Apostille / Embassy Legalization Order Form (PDF file)
Complete the Order form and enclose it with your documents. Our mailing address is
Foreign Documents Express331 Newman Springs Rd., Bldg. 14th Floor, Suite 143Red Bank, NJ 07701
---