How to get an apostille... in New York and nationwide?
APRIL 8, 2017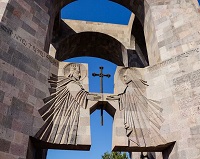 A U.S. citizen who wishes to marry an Armenian citizen must complete an affidavit stating that he/she is not married, and is legally free to marry. You can sign this document at the U. S. Embassy in Yerevan or in the United States. (If you are signing it in the United States, to be valid in Armenia, the document has to be notarized and apostilled!) We provide a free download of this document, called "Acknowledgement", and apostille services for Armenia in New York and in all U.S. States.
Related search terms: "single status affidavit for armenia", "new york apostille for armenia", "getting married in armenia", "affidavit of eligibility to marry in armenia", "documents for armenia" "certificate of no impediment for armenia"